Opposition Slams PPM Over Constitutional Delay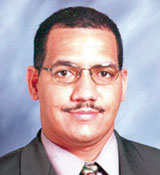 Rolston Anglin is ruffing it up here for the great PPM (Poor People Mistake) so they can take it back where thhe PPM came from....
The United Democratic Party (UDP) on Thursday, 27 November, rejected charges by elected officials that the group was responsible for the indefinite delay to constitutional talks, instead accusing leaders of insensitivity and scapegoating.
"Let's do a reality check. The government wrote to us on 6 November, just before the passage of Hurricane Paloma," said Rolston Anglin, senior UDP member, "reminding us of the constitutional talks and that they would be continuing.
"The government sees the passage [of Paloma] and the devastation and [Kurt Tibbetts] the Leader of Government Business should have said, 'Do you believe it would be right to continue the talks?' but he didn't.
***Read Story Here***